the vines of DOMAINE
de Saint Amand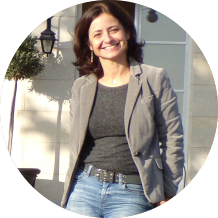 authentic traditional PRODUCTION for memorable tastings

It was at the beginning of 2018, when I took over this magnificent 3-hectare estate, that my new adventure as a vigneronne began. I understood very quickly that success in my new professional life would require all my enthusiasm and energy, but also that I would need a good dose of humility.
The vines of my new domain are south- and southwest-facing on clay/limestone/pebbly slopes overlooking the Garonne river in the village of Cambes. The 25-year-old vines offer ideal conditions and enormous potential for producing excellent wines that are both pleasing and subtle.
My passion for viticulture that is attentive and respectful of the environment can here express itself fully. Obtaining HEV (High Environmental Value) certification in April 2020 is only the first step in this direction. The estate is currently in conversion to organic viticulture.
I am classed by the governing bodies of the Bordeaux wine trade as a 'young winegrower', very deeply involved in cellar-work and all the stages of the vinification of my wines. My commitment is to produce quality wines that are honest and of good balance, wines that are resolutely modern and drinkable in the purest tradition of Bordeaux winemaking.
The vinification is carried out under organic protection (i.e. no sulphates). Careful ageing takes place in stainless steel vats or French oak barrels.
Produced under the two appellations Cadillac Côtes-de-Bordeaux and Bordeaux, my production is declined in three colours: red, white, and rosé, as well as four special blends bearing the DSA signature and, finally, 'L'Exception du Domaine de Saint Amand'. Our grape varieties are Merlot, Malbec, Semillon, and Sauvignon.
I invite you to experience each tasting as a shared moment of pleasure, whether it be at home with your family and friends or on the occasion of a visit or a stay at Domain de Saint Amand.

le domaine
de Saint Amand
EMBARk upon a unique adventure
The vines of Domain de Saint Amand occupy a hilltop location just 15 minutes upstream from Bordeaux on the Garonne river in the village of Cambes. The panorama is of endless vineyards stretching over rolling hillsides, a splendid vantage point. The vineyard rows unfold their luxuriant foliage with the Garonne river as a backdrop.
3 ways to discover DOMAINE de saint amand at your own pace, ACCORDING TO YOUR DESIRES
CURRENT EVENTS AT DOMAINE
de Saint Amand